Hot latte (most popular): add 2 scoops (20g) of powder to 150ml hot (not boiling) water. Froth or blend until perfect foam appears. We highly recommend using a frother for this.
Iced latte: froth or blend 2 scoops (20g) of powder to 150ml cold water, then add ice.

you can use plant-based milk for a creamier taste

use less water for a sweeter and stronger taste
Do not just add boiling water to the powder and stir with a spoon or fork. Please follow the instructions below.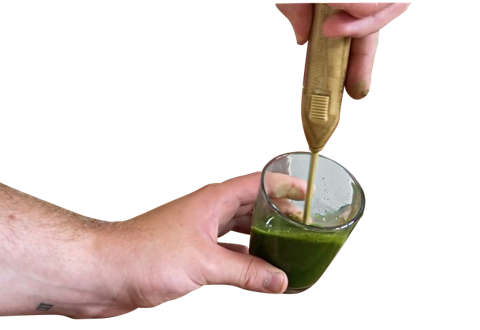 Dissolve 1/2 to 1 teaspoon of powder in 2 tablespoons of room temperature water (add the water first) until smooth. You can use a frother, water bottle, whisk or blender to do this.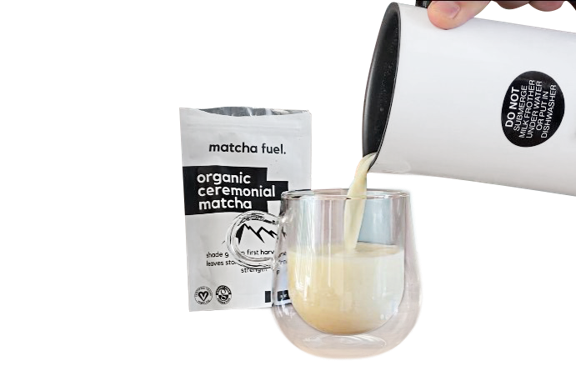 Top up with liquid of choice
Top up with either hot water (not boiling) or plant-based milk. We recommend using oat, almond, coconut or soy milk. Cold barista edition oat milk is our most popular choice. Give it another blend, and add optional sweetener of choice (honey or syrup).
Still not sure? Scroll down to see video tutorials & recipes...
DO always dissolve the powder in 2 tbsp of water before adding any milk.

DO use only hot water (176F/80C) and not boiling water. The temperature of water can vary the flavour. For a softer, mellower flavour use temperature 158F/70C.
DO sift the matcha powder before whisking with hot water to remove any lumps (optional).

DO use less powder or more water if it tastes too strong.
DO NOT just add boiling hot water to the powder, otherwise it will kill the powder.

DO NOT try and dissolve the powder using a folk or spoon, it won't dissolve properly.
DO NOT directly add the powder into milk, you will get lumps in your matcha latte drink. Dissolve in a small amount of water first (roughly 40ml / 2 tbps) before being mixed with any milk.
USING A FROTHER TO MAKE MATCHA TEA.
USING A BLENDER TO MAKE MATCHA TEA.
USING A WATER BOTTLE TO MAKE MATCHA TEA.
CHECK OUT SOME OF OUR RECIPES.
JOIN THE MATCHA FUEL COMMUNITY.
For more recipes, tips & tricks, and to share your own advice, join the online Matcha Fuel Community!